Costa del Sol, East - Axarquía.
The small towns and villages east of Malaga have kept much of their original charm. There are few foreigners, and the Spanish way of living continues today as it has done for the past centuries. The towns and villages along this beautiful coastline have excellent promenades with plenty of good fish and seafood. The beaches are superb and stretch, almost uninterrupted, all the way along the coastline. Inland, you will find the well known and charming white villages of Andalucia. The views from these villages are breathtaking with green valleys, mountains and the blue mediteranian as a backdrop. Truly a sight for sore eyes. The area east of Malaga is also blessed with the best climate in Europe. In the wintertime the temperature is usually 3-4 degrees warmer than west of Malaga, whilst in the summer 3-4 degrees cooler. In this area you can cultivate oranges, bananas, limes, lemons, grapefruit. Avocados and other exotic fruits that could only bee found in this area in Europe.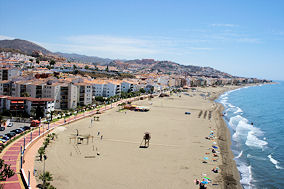 Cala de Moral and Rincón de la Victoria.
These are the closest towns east of Malaga. Situated just 25 minutes drive (32 km) from the airport and 15 minutes from the centre of Malaga. "The corner" (Rincón) is still an undiscovered pearl on the Costa del Sol, an area that until recently the Spaniards had kept for themselves. Rincón de la Victoria was a small sleepy fishing village, but has now become one of the top holiday destinations for the native population. The prices on property have followed the Spanish market, and foreign money has still not pushed the price levels too high. The restaurants are still Spanish and 95% of the population, even in the summer season, is Spanish.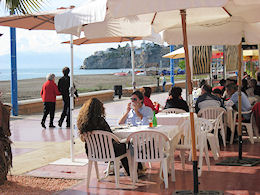 Rincón de la Victoria and Cala del Moral have a gorgeous 8 km long beach, with a beautiful promenade that connects the two towns. Here you can find plenty of small idyllic restaurants and bars. Fresh seafood is delivered each day from the small fishing boats that still moor on a small section of the beach. Just 5 minutes from Rincón you will find the 18 holes golf course, Añoreta Golf.

Rincón de la Victoria and Cala del Moral are developing quite fast now since more and more Spanish people are moving from the west of Malaga to the east of the city. The main reason for moving is the price differencial, whilst still maintaining the close proximity of Malaga itself. Read more about Rincón de la Victoria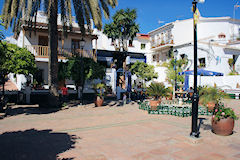 Benagalbon.
Benagalbon which is only 7 minutes drive from the centre of Rincon de la Victoria and the beach is one of these small charming villages. It has the typical whitewashed houses and narrow streets filled with flowers.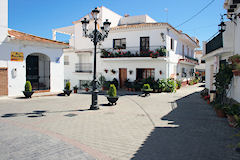 A nice square in the middle of the town with several restaurants is the common meeting point.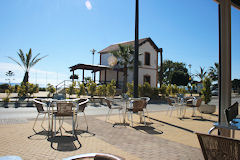 Chilches and Benajarafe.
Chilches and Benajarafe are two small villages that are calmer and more of holiday villages. Chilches is situated only 5 minutes drive east of Rincón and Benajarafe only 10 minutes further east.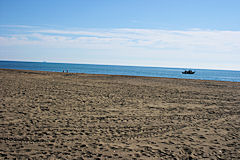 Both places were originally small fishing villages. The beaches here are magnificent and there are several restaurants along the coastline. There is a good selection of properties in this area. Apartments, penthouses, townhouses, villas and farms with big plots and splendid view of the ocean. Añoreta Golf is also only a short drive away.
Chilches and Benajarafe are the places to choose for holiday, or as a permanent place of residence, if you are looking for some peace and quiet and yet still be close to all amenities. It is only a short drive to both Rincón de la Victoria and Torre del Mar.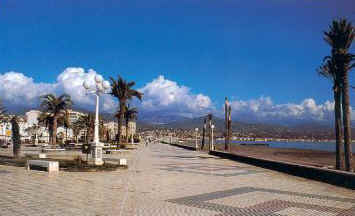 Torre del Mar.
Torre del Mar is the largest coastal town in Axarquia. It is a typically Spanish town and although it may seem a little hectic at times, compared to the town of Fuengirola, Torre del Mar is a village! Here you can find everything you need; shops, restaurants and shopping centres. Torre del mar is also known for its incredible beach promenade, the largest in Europe.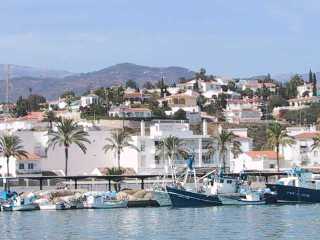 Caleta de Velez.
Caleta de Velez can almost be described as an exclusive suburb of Torre del Mar. Situated on the eastern side of town, it has its own harbour, and the walk into Torre del Mar is beautiful along the biggest beach promenade in Europe. It is just a five minutes drive to the Baviera Golf course. Today most of the houses in Caleta the Velez are villas, but there are now also several developements of townhouses under construction.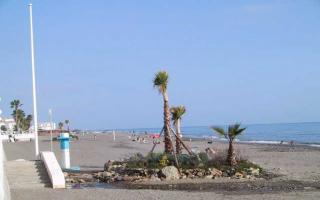 El Morche and Mesquetilla.
El Morche and Mesquetilla are small villages between Torre del Mar and Torrox Costa. These are quiet tranquil places, and yet they have a wide variety of restaurants and bars. The beaches, as with the rest of this part of the coast, are wide with an abundance of beautiful soft sand.

Torrox Costa.
Torrox Costa is situated 6 km. from Torrox pueblo(village). It has a beautiful beach promenade and an excellent beach. There are several of restaurants and bars along the promenade. Until recently most of the foreigners living in Torrox Costa were German, but this is now changing. The German economy has been under substantial pressure of late and a lot of Germans have chosen to sell their properties in this area. What we now see is a more mixed population of English, Dutch and Scandinavians moving in.

Nerja.
Nerja is probably the most known town in the eastern part of the Malaga province. As with many of the other towns along the coastline, this former fishing village has kept very much of its original charm. Narrow streets abound, with small with houses nestling close to each other, and all just by the seaside. Nerja has many beaches, divided by cliffs along it´s coastline. It is impossible not to be charmed by this town, which is sheltered to the north by the mountains of the Sierra Alpujarras. Nerja is also the most popular town among ex pats, and many of them live here for most of the year. Today, it is the English that dominate the town and you can find all the services that you require offered by English people. In summertime Nerja can be very busy, especially in the centre and in its many popular restaurants.

Maro.
Maro is a very small sleepy suburb of Nerja. Though it does not have a beach, it is very close to Burriana Beach, the most poular beach in Nerja. Maro is probably best known for it´s caves. The caves are marvellous. A 2 km lit path meanders its way through the caves with their splendid array of stalagtites and stalagmites. It is within these caves that you can see the largest standing stalagmite tower in Europe. The cave is like a cathedral designed by Gaudi, but beneath the ground.


Inland.
The Axarquia area is probably one of the most exciting areas in Spain. Here one finds the, now well known, white villages of Andalucia. They are many, and as you drive into this beautiful countryside, new idyllic places seem to pop up around every turn.
Here we try to describe some of the larger and maybe better known villages in Axarquia. Villages like Velez-Malaga, Competa, Sayolonga, Moclinejo, Comares, Viñuela and Alcaciras.

Velez-Malaga.
This historic town is the biggest in Axarquia. It is situated just north of Torre del Mar. Velez-Malaga is especially known for the great Arabic fortress. The walls of which, date from the 8th century. It is also well known for all the churches and monasteries that in some cases are built on old ruins of mosques. The old city of Velez-Malaga is typical for this area. Small narrow streets that wind their way among the houses, like small streams. A truly delightful town.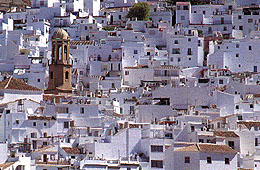 Competa.
Competa is an incredibly charming little village. It is situated on a hillside approximately 30 minutes drive from the coast. Here you can almost get lost in all the small narrow streets turning around small white houses. "La Corniso del Meditarráneo" which the inhabitants call the centre is in many places so steep that the streets have been replaced with steps. Visiting this village, the best thing to do is to park the car outside the centre and move around on foot. Competa has become a popular place for holidays, as well as for people who would like to settle in a more Spanish environment. Already quite a few English people have settled in this area.

Viñuela.
Viñuela is quite a small village. In fact, it is the area surrounding lake Viñuela that is best known. Here you also find the small village Alcaciras. The lake, in its scenic setting offers magnificent views. Viñuela is situated approximately 25 minutes drive from the coast, passing through the town of Velez-Malaga. If you require a holiday home, or a permanent place to live with peace and quiet, then this is the perfect spot. At this moment in time there are several new developements under construction and there are properties at all price levels. New houses are quite affordable here, since the cost of building plots are much lower than those by the sea. In the near future a new golf course will be built.





Sayalonga.
Sayalonga is a small village only 15 minutes drive from the coast. There are not many foreigners living in the village itself, but there are a few living on the outskirts. Here you can find some truly beautiful properties in this quiet countryside. The views from some of these properties are nothing short of stunning.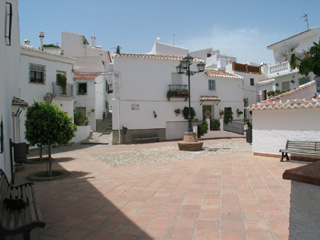 Moclinejo.
Only 20 minutes from Malaga. On a small hillside, and nestled between the two small mountains, Córdoba and Piedra Blanca, is the charming village of Moclinejo. The village has fantastic views across the green valley of Benagalbon towards the sea. The sea itself is just a 12 minutes drive away. This area is typical for Axarquia, beautiful hillsides covered with olive trees, almonds trees and vines. The streets in Moclinejo are like many other small villages in Andalucia - narrow, steep and with stairs in several places. In Moclinejo one can enjoy countryside living, whilst at the same time be close to both the town and the sea.

Comares.
This is an impressing village situated on a small mountaintop 739 meter above sea level. You feel as if you are in an eagle nest with the incredible views over Axarquia, where small towns and villages are scattered around like tiny white dots. Comares is situated approximately 35 km. from Malaga.